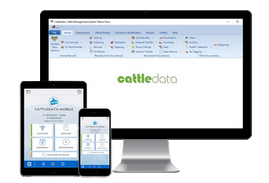 Cattledata and the RHASS Commended Cattledata Mobile App allow you to keep cattle records and monitor the status of your animals from the time they enter the system until they depart, from the palm of your hand.
Cattledata is used to keep cattle records by enterprises ranging from suckler cows and their progeny to purchased store and finisher enterprises. Cattledata is used for dairy herds where dairy replacement and youngstock control is required, or where NMR or CIS are used for milk records.
Use Cattledata to:
Maintain detailed birth, death, movement and medical records for every animal with ease.
Import and export records direct to National Databases and Pedigree Societies.
Monitor the performance of all animals.
The benefits of Cattledata:
Easy to set up and operate. Import initial herd details from national databases.
Improve record keeping accuracy. Update records on the Mobile App, no lost records between field and office.
Save time. Electronic eartag data capture and barcode input of data allow you to update records of large groups of animals quickly.
Stay compliant. All statutory Live or Dead animal reports are at your fingertips from Retagging records to Continuous Herd Record.
Drive performance. Weighing and Sales reports and more.